Welcome to the BLEACH CHANNEL wiki!
he wiki about the Bleach role-playing game
that
anyone can edit
The Main RP Site
Link: www.bleachchannel.com
Description
Bleach Channel is a forum-based text role-playing game centered upon an alternate Bleach universe. In our universe, Ichigo, Aizen, and the others do not exist. The site's plot revolves around the rise of hundreds of Substitute Shinigami in the human world and a growing conspiracy within Seireitei's Central Forty-Six Chambers to eliminate them. It's up to the good guys to uncover the truth surrounding the situation and prevent the world from falling prey to a new, more powerful threat.
Members get to create their own Shinigami, Hollow, Advent Human, and many other types of characters. By writing consistently and collabing with others, their character can quickly climb the ranks and grow from a low-ranked nobody to a Seated Officer, Arrancar, Espada, or even a Gotei 13 Captain!
What's new
Date- This wiki is created!
Date- News text
Contribute to this wiki
To write a new article, just enter the article title in the box below.
<createbox> width=24 break=no buttonlabel=Create new article </createbox>
Not sure where to start?
Featured article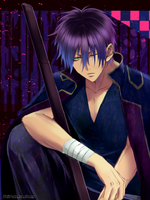 Sasuke Soramaru is a Shinigami Noble in Bleach Chanel RPG. His RPer is King Zeal.
Main Page: Sasuke Soramaru
Featured Video
Use this section to show a featured image or video